What is LEED®?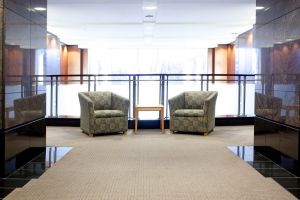 LEED is a third-party certification program and the nationally accepted benchmark for the design, construction and operation of high performance green buildings. LEED gives building owners and operators the tools they need to have an immediate and measurable impact on their buildings' performance. LEED promotes a whole-building approach to sustainability by recognizing performance in five key areas of human and environmental health: sustainable site development, water savings, energy efficiency, materials selection and indoor environmental quality.
USGBC — The United States Green Building Council is a 501 (c)(3) non-profit community of leaders working to make green buildings available to everyone within a generation. The USGBC is run through committees, attracting members to pay a membership fee which helps fund programs. Conklin Office Furniture is a member of the United States Green Building Council.
How is LEED Developed?
LEED Rating Systems are developed through an open, consensus-based process led by LEED committees. Each volunteer committee is composed of a diverse group of practitioners and experts representing a cross-section of the building and construction industry. The key elements of USGBC's consensus process include a balanced and transparent committee structure, technical advisory groups that ensure scientific consistency and rigor, opportunities for stakeholder comment and review, member ballot of new rating systems, and a fair and open appeals process.
How Does A Building Get Certified?
A building can be certified by achieving a certain number of credits set forth by the LEED rating systems. Depending on the number of credits attained a building will be designated platinum, gold, or silver. At the start of a LEED project the company will decide what rating system applies to their project and ultimately what credits within that rating system they will seek.
LEED Rating Systems
New Construction
LEED for New Construction and Major Renovations is designed to guide and distinguish high-performance commercial and institutional projects.
Commercial Interiors
LEED for Commercial Interiors is a benchmark for the tenant improvement market that gives the power to make sustainable choices to tenants and designers.
New Construction Rating System 2.2
| Credit | Title | Office Furniture Application |
| --- | --- | --- |
| MR 3.2 | Resource Re-use | Include remanufactured furniture as a part of your materials costs |
| MR 4.1/4.2 | Recycled Content | Use fabric composed of recycled materials |
| MR 5.1/5.2 | Regional Materials | Projects with-in 500 miles of Conklin which includes Boston, New York City, Connecticut, and New Jersey |
| MR6 | Rapidly Renewable Materials | Incorporate products composed of Renewable materials such as cork, bamboo, and wheat |
| MR7 | Certified Wood | Include materials in the remanufacturing process that are FSC certified |
| EQ 6.1 | Controllability of Systems | Workstations can include individually adjusted task-lighting |
| EQ 8.1/8.2 | Daylight & Views | Design your office space using lower panel heights and/or glass panels |
| ID 1/1.4 | Innovation and Design | Ideas and projects above and beyond |
Commercial Interiors Rating System 2.0
| Credit | Title | Office Furniture Application |
| --- | --- | --- |
| MR 2.1 | Divert 50% disposal from landfills | When purchasing from Conklin we use as little disposable packaging as possible. Our shipments are carefully packed utilizing shipping blankets and corrugated cardboard that we are able to reuse time and time again. |
| EA 1.1 | Optimize Energy Performance, Lighting Power | Reduce lighting power density to 15%-30% below the standard |
| MR 3.3 | Resource Re-use 30% | Specify existing furniture for your project (as-is or refurbished) |
| MR 4.1/4.2 | Recycled Content | Use fabric composed of recycled materials |
| MR 5.1/5.2 | Regional Materials | Projects with-in 500 miles of Conklins which includes Boston, New York City, Connecticut, and New Jersey |
| MR6 | Rapidly Renewable Materials | Incorporate products composed of Renewable materials such as cork, bamboo, and wheat |
| MR7 | Certified Wood | Include materials in the remanufacturing process that are FSC certified |
| EQ4.5 | Low emitting materials: Systems Furniture and Seatings | All systems furniture and seating introduced into the project space that has been manufactured, refurbished or refinished within one year prior to occupancy must meet one of the requirements below. |
| EQ 6.1 | Controllability of Systems | Workstations can include individually adjusted task-lighting |
| EQ 8.1/8.2 | Daylight & Views | Design your office space using lower panel heights and/or glass panels |
| ID 1/1.4 | Innovation and Design | Ideas and projects above and beyond |